In the European Year of Skills 2023, whose central message is the necessity for continuous upskilling and training to cope with changes in the labour market and to actively participate in society if we want to contribute to the green and digital transition through innovation and increased competitiveness, DOBA Business School, through its 11 projects, is developing new opportunities to empower individuals, companies and educational institutions to develop their potential and create an inclusive and just society and improve the quality of life in general.
The projects at DOBA Business School are directly related to the study programmes offered by the school and cover the fields of business, management, entrepreneurship, marketing, education, psychology, and smart cities.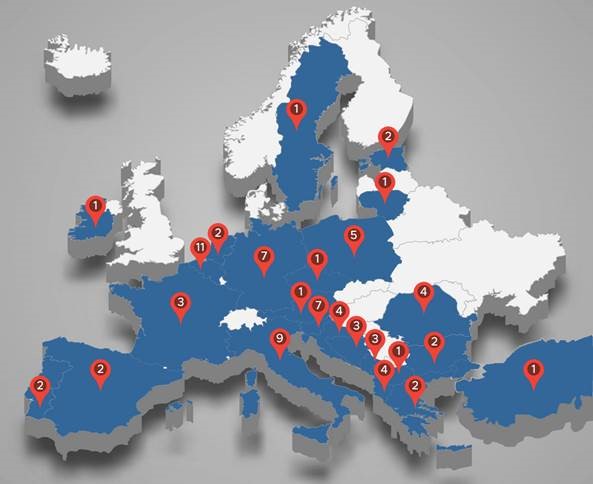 Green Growth Competences for youth to face the circular economy challenge
Leaders of the Green Economy is a project that creates a university environment that will foster the development of circular economy concepts for business school students to better prepare them for the demands of jobs of the future, while at the same time providing support to companies in implementing circular economy principles and thus making the transition to a green economy.
Digital literacy of adolescents and safe use of social networks in times of rapid change
The ASAP project addresses adolescents' digital literacy and safe use of social networks in a different, more in-depth way, through the development of a metacognition that represents knowledge about one' own cognitive abilities and the ability to change one's own learning style, and provides a structured approach for adaptive, critical and safe use of social networks in a rapidly changing context.
Fostering innovative and entrepreneurial thinking to develop smart and green solutions
In the context of the SMART project, DOBA Business School, in collaboration with partners, is setting up Innovation Centres at 7 universities in Albania, Bosnia and Herzegovina and Montenegro, which will offer training and advisory services in different areas of smart specialisation for companies and other higher education institutions in the region.
Sustainable finance and financial literacy of women
As there is still a large gender gap in financial literacy in the EU, the FINPOWER project focuses on improving women's financial literacy skills in the context of the Academy for Sustainable Finance, which will contribute to increasing their self-confidence and trust in their financial skills, which are important for economic and financial stability and for the development of society in general.
Positive psychological interventions to promote mental health and well-being in secondary school students
The COVID-19 pandemic has demonstrated the need for teachers and counsellors to play an active role in reducing the risks of mental health disorders and promoting mental health for the well-being of secondary school students, especially those from less socially stimulating backgrounds. The BE-WELL project empowers school staff to provide this kind of support to students.
Next generation entrepreneurship through gamification
Using gamification, one of the main technological trends in education over the last decade, the Game4Change project uses games and gamification as the basis for training the next generation of entrepreneurs, providing students with innovative ways to generate business ideas, create sustainable business models, and lead with impact.
Virtual reality to better equip professional staff for internationalisation in higher education
The international and intercultural context of a higher education institution, the dissemination and quality of which is ensured by a range of professional staff, is crucial for the career paths of students as well as for the research and other credentials of higher education teachers. Through a specific training programme, which is based on virtual reality technology, the VR4Skills project provides better skills to deliver effective international services, independent of pandemics and other crises of global dimension.
Greater resilience and adaptability of social enterprises
The BASE project focuses on strengthening skills of the social economy and its human capital in key areas such as digital and green transitions, where social economy enterprises and organisations are already achieving significant added value.
Realising entrepreneurial passion through the innovation resources of different entrepreneurial ecosystems
Students of business and entrepreneurship programmes, as well as all with a passion for entrepreneurship, will have the opportunity to expand their knowledge in the Ecosys4you training programme. The training will be based on different innovation resources from the entrepreneurial ecosystems of the state with strong, moderate and modest innovators, such as Germany, Slovenia and Bulgaria, which will foster the entrepreneurial spirit for the benefit of all ecosystems, create new entrepreneurs, and support networking between the different ecosystem actors.
Enhancing career success with digital skills for everyone, all the time
The DIG-AGE+ project empowers individuals to develop digital, entrepreneurial and sustainability skills at any stage of their lives. The project targets both skilled professionals as well as less-experienced workers, including those looking for a professional change and novel job opportunities.
Blended learning standards
Educational institutions in the field of tertiary education in Slovenia will have the opportunity to upgrade the quality of implementation of study programmes in blended format, as the Development of a blended learning standard in Slovenia project brings standardisation of this popular innovative approach in education.