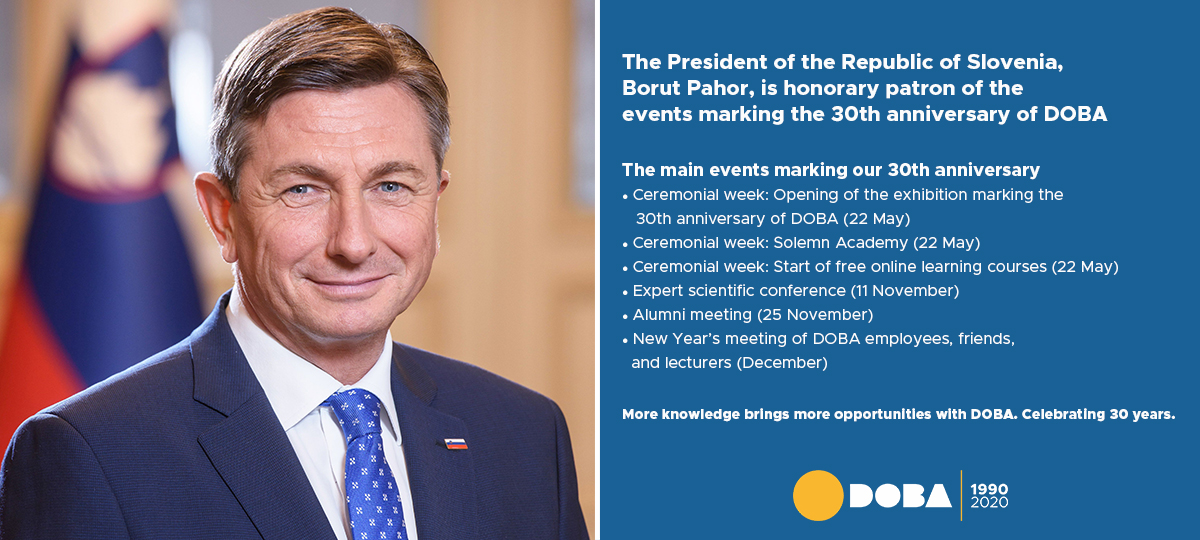 30 years in numbers

Pioneers

49,228 participants and students joined us
We offer more than 100 education and training programmes
There are 36 full-time employees and 230 outsourced co-workers helping us
8,607 students have graduated from DOBA
We have been implementing online learning for 21 years
We are active in 4 markets
We cooperate with 3,000 companies
Students study online from 46 countries across the globe

We were the first private educational institution in Slovenia
We began with early language learning in kindergartens in 1990
We set up the first private higher vocational college in Slovenia
We opened the first Independent Learning Centre in Slovenia
We developed the first online learning model in Slovenia
We developed the first private short-cycle higher education programme, Business Administrator
We were the first in SE Europe to receive an international accreditation for online learning
History of DOBA
We embarked on our path 30 years ago by offering language courses, first for preschool children and later language programmes for adults, including specialised programmes specifically for companies and individuals,
In 1991, we began cooperating with the Maribor regional office of the Employment Service of Slovenia developing new programmes for the unemployed, professional programmes, and personal growth programmes.
In the next years, DOBA successfully continued its mission by introducing different forms and types of learning specifically tailored to the needs of the adult population. In cooperation with the Slovenian Institute for Adult Education, we set up the first Learning Centre in Slovenia in 1995, followed by the Knowledge Exchange Centre a year later, both intended for free non-formal learning of individuals.
After a few years of operations, we began growing strong in the field of formal education. In 1997, we began implementing secondary school programmes adapted to the adult population.
In 1999, DOBA set up one of the first higher vocational colleges and began implementing the certified short-cycle higher education programme, Business Administrator, which we developed at DOBA. In the next years, higher vocational education was one of the key activities at DOBA. We intensively began with international activities, establishing links with the economy and strengthening our cooperation with the community. Today, we offer eight modern short-cycle higher education programmes.
The year 2004 saw another development breakthrough for DOBA when the College of Business was set up. In 2009, it was transformed into a faculty. We successfully included students from Serbia and Croatia in our programmes.
DOBA Business School is the leading provider of online learning in the Slovenian higher education arena. Tradition, excellent study results, success of its graduates, social responsibility, development, scientific and research work, first-rate knowledge, use of modern and innovative pedagogical approaches, and internationalisation with international students position DOBA Business School among the most ambitious higher education institutions in Southeast Europe. The students studying at DOBA Business School come from 46 countries, the majority from Slovenia, Croatia, and Serbia. Today, we offer four bachelor programmes, four master's programmes, and one doctoral programme in four languages.
The school's Director, Jasna Dominko Baloh, has received the highest national award of the Republic of Slovenia for successful educational, innovative, and organisational work in adult education and the award of the Slovenian Institute for Adult Education for her efforts in the development of quality in adult education. Last year, she was named the Economist of the Year 2018 as chosen by the journalists of the Večer newspaper.
Other awards and recognitions
Our development and high-quality work in online learning has been awarded with two international accreditations for quality in online learning
We received the Maribor Municipality Charter for achievements in education and our contribution to the development of education in the region of Štajerska
We are a three-time recipient of the Innovation Award conferred by the Chamber of Commerce and Industry of Štajerska
We were a finalist of the 2018 Marketing Excellence of the Year Award conferred by the Slovenian Marketing Association
The higher vocational college received an award for 20 years of high-quality work, bestowed by the Association of Slovene Higher Vocational Colleges
Last year, we received two awards – the HORUS 2019 award for social responsibility, which is conferred by the IRDO institute and
The Apple of Quality award for exceptional achievements in international cooperation, which is conferred by the Ministry of Education, Science and Sport