The top five students, participants of e-PROFMAN, received the opportunity to attend a one-month on-the-job training abroad. One of them was Mateja Šoštarić, who spent a month in Macedonia, in Chapter 4.
The e-PROFMAN (Online Professional Programme in Innovative Management, Leadership and Strategic Communication) programme has been jointly designed by three higher education institutions: DOBA Business School, the School of Journalism and Public Relations (Skopje, Macedonia), and University of Istanbul (Istanbul, Turkey). In the context of the programme, students joined a virtual campus, gaining knowledge in innovative management, leadership and strategic communication. The programme also provided them with the unique opportunity of international networking. The top five students participating in the programme also received the opportunity to attend a one-month on-the-job training abroad. One of them was Mateja Šoštarić, who joined e-PROFMAN through DOBA Business School. Mateja spent a month in Macedonia, in Chapter 4.
This is what she wrote about her experience in Macedonia: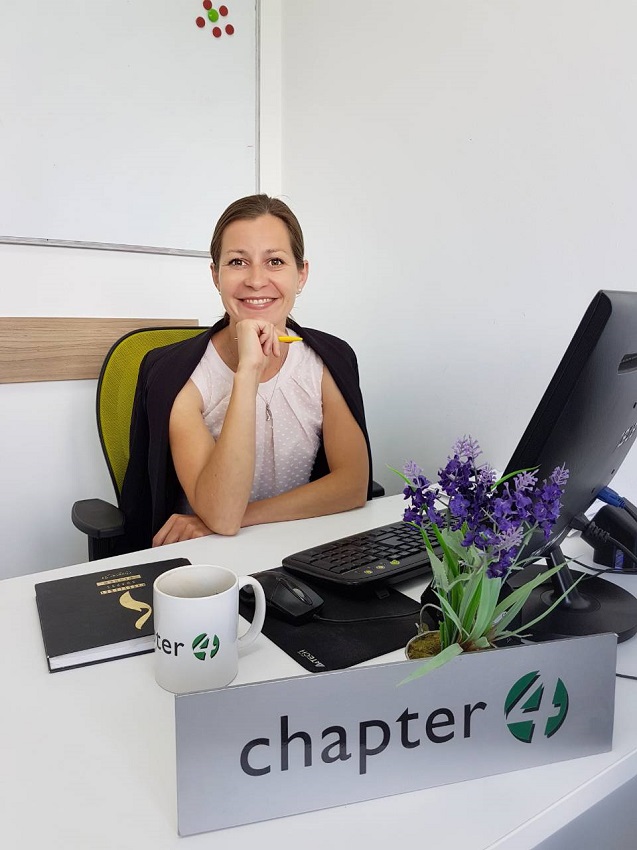 "In the context of the e-PROFMAN programme, I attended a one-month on-the-job training in a communications agency in Skopje, in Macedonia. I attended the training at Chapter 4, a company whose headquarters are located in Austria.
During my training, I learned about their work in public relations, the preparation of communication strategies, event coverage, and preparation of communications and time plans via social media for various types of clients. I also researched possibilities of cooperation between Macedonia and Slovenia in tourism and communication opportunities.
I see the main advantage of my on-the-job training in Macedonia in moving away from my home environment and consequently having the possibility to broaden my view of communication activities as opportunities for companies or other types of organisations or individuals. It provided me with the opportunity to take a look at things from a different perspective and get new ideas which I believe will help me with my work in the future. I have also learned about the situation with the media landscape in Macedonia and communication trends. During the one-month on-the-job training, we exchanged our experience and good and bad practices from both environments (Slovenia and Macedonia) and searched for opportunities how to upgrade different knowledge and experience.
An important part of my one-month experience was also the fact that I moved to an environment of which I knew very little before moving. Talks and discussions with my colleagues have allowed me to get to know Macedonia better, to learn about the hospitality of its people and the hidden opportunities that this country offers. Macedonia has incredibly beautiful and pristine nature and excellent food, but I loved its people the most – they are incredibly warm and hospitable. The dynamics of working and living in Macedonia are slightly more easy-going than in Slovenia. In my experience, they pay much more attention to socialising and maintaining good relationships, also in business teams.
I am happy that I had this opportunity to explore Macedonia, get to know its people and practices in public relations and other communication activities. I believe that I will return to Macedonia and in the long run I am convinced that we will continue the projects that we have started together.'