I am proud of our story, as it is a story of a never-ending journey that continually evolves and grows.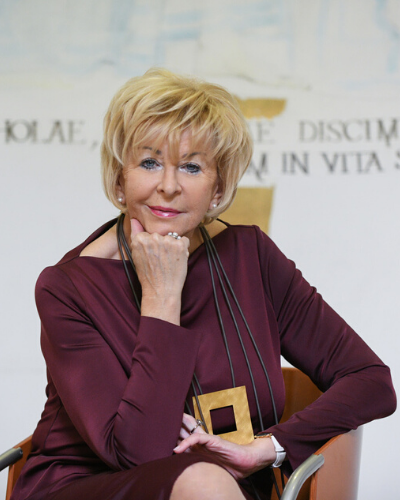 Prosperous and Creative 30 Years
It is with great pride and pleasure that I can present this brochure that has been dedicated to the celebration of the thirty years of DOBA.
I set up DOBA thirty years ago and a new chapter in my life began. I had a clear vision – to develop a different and innovative educational institution. From the very beginnings, we focused on excellence and on being outstanding and bold. Together with my colleagues, we pioneered the field and set the foundations for high-quality and innovative education of children and adults in Slovenia.
In the 1990s, Slovenia was aware of the need for the development of new programmes and new learning methods and forms. The atmosphere at the time affected the concept of the learning society, which began receiving a prominent place in the life of every individual. Social attitudes were favourable for the development of new programmes and learning methods, including in private educational institutions.
We have shaped our philosophy, mission, and culture and developed programmes and methods that enrich the Slovenian community and the wider region.
Our greatest developmental achievement is undoubtedly the development of the DOBA online learning model that positions us alongside other models. The model has been prepared in answer to the need for enriching and enhancing the quality of education and has been awarded with two international accreditations.
DOBA Business School was established at the beginning of the new millennium. In shaping higher education programmes, from undergraduate to master's programmes and the doctoral programme, we have always been guided by thoughts on the role of managers of the future and the competencies that they will need to achieve company competitiveness and to manage their employees.
I am highly aware that our competitive advantages in Slovenia and in Southeast Europe do not include only the modern educational programmes, our unique online learning, the number of students, and other benefits. Rather, they relate to the human dimension, to continuous change, values, and culture.
In the last thirty years, the world around us has changed – the labour market, globalisation, and other processes, all affecting our life and work. DOBA has proven itself on this path with continuous adaptations and growth and has significantly contributed to the development of human, cultural, and social capital and to the competitiveness of companies. And, this was a goal worth pursuing for thirty years.
The success story of DOBA has been shaped by all, by motivated employees, excellent teachers, online tutors, partners, students, graduates, and companies. Let this anniversary be a thank you to all who have and continue to leave a mark in our educational story, to all who have and will continue to share with us your knowledge, time, and your future.
I am proud of our story, as it is a story of a never-ending journey that continually evolves and grows into online DOBA, DOBA knowledge, DOBA networking, DOBA for the development of the community, DOBA for growth and sustainability, and DOBA that develops individuals. In short, into DOBA, A School That Goes Beyond.
Jasna Dominko Baloh, Director of DOBA Business School