Online Program on Environmental Communication, offered by our international partner from the Republic of Macedonia, ICS - Institute for Communication Studies, to students, graduates, professors, online mentors, researchers, professionals and other members of the public, eager for new knowledge in the field of environmental communication.
We would like you to take the opportunity and join an interesting international virtual mobility program on Environmental communication (programme starts on January 12, 2023 and finishes in June 2023, participation is free of charge).
Pay attention to a call for enrolment of participants in an international and free Online Programme on Environmental Communication, which is a new practical discipline that integrates environmental management and communication and journalism techniques.
The programme empowers environmental communicators in all sectors of society - civil society, academia, media, business, and government. Its curriculum spans different areas, including environmental governance, public participation, conflict resolution, risk communication, journalism, social marketing and advocacy.
This ERASMUS+ funded programme provides:
New career path or research growth: the participants will apply knowledge and skills in team projects valuable for CSOs, institutions or companies, interacting with peers and professionals from different countries.
Flexible online learning: the programme will last 6 months – from January till June 2023, including 5 online courses and a final hackathon. The participants can follow the entire programme or the courses separately and choose graded or audit option.
Microcredentials: after completing the free-of-charge programme or course/s, the participants will obtain a professional certificate and ECTS credits.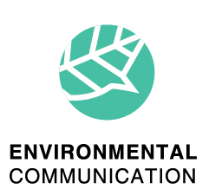 All interested can apply through the ONLINE APPLICATION till December 18th, 2022.
More details can be found in the Info-sheet, on their website www.communicating.green and on the Programme`s Facebook and Instagram pages.
Contact person: Dejan Andonov, Programme Coordinator - info@communicating.green.