At today's ceremony on the occasion of the 30th anniversary of DOBA, the Mayor of the Municipality of Maribor, Mr Aleksander Saša Arsenovič, awarded DOBA with the City Seal of Maribor.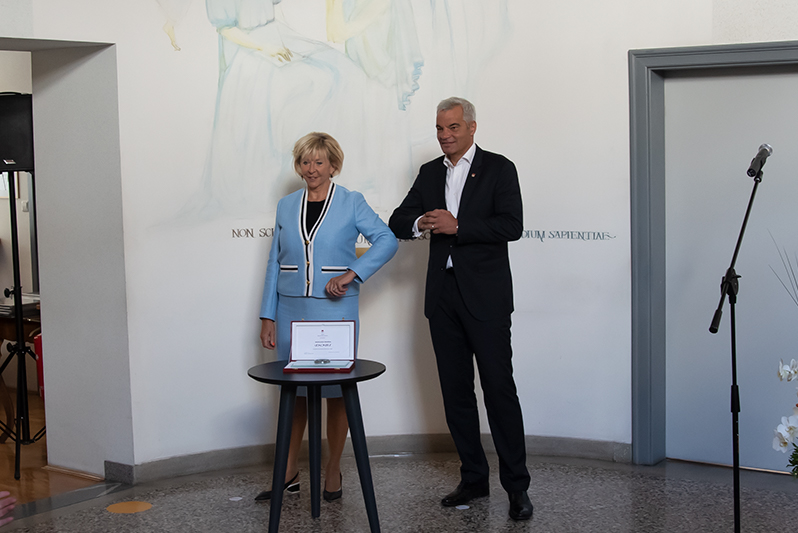 As emphasised by the Mayor in his speech, through its presence, DOBA has been facilitating the importance of learning and education in our city for 30 years. Knowledge and education are also amongst the priorities of the development of the city of Maribor. With its programmes and innovative approaches, DOBA is developing present and future generations, who lead and will continue to lead us on the path of further development of our city.
On the same occasion, DOBA also conferred awards, recognitions, and acknowledgments on its deserving colleagues of the past 30 years, whose efforts have contributed to the success and development of DOBA.
Recognitions for exceptional achievements and a recognisable contribution to the operations, reputation, and development of DOBA Business School were conferred on:
Irena Amič Ravnik
Associate Professor Dr Lea Bregar
Professor Dr Boris Cizelj
mag. Franci Pivec
Awards for longstanding cooperation with DOBA, for developmental work, and exceptional academic achievements were conferred on:
mag. Natalie Cvikl Postružnik
Petra Arnejčič Munda
Dr Suzana Golobb Strmšek
Assistant Professor Dr Darko Števančec
Tanja Marhl
Matej Mušič
Acknowledgement for her dedicated and professional work was conferred on Ksenija Drolc.