In the Business Forecasting and Sustainable Development Strategy course, under the supervision of Assoc. Prof. Dr. Marina Letonja, master's students are working on team projects on the topic of sustainable development in different industries/branches. At the start of the course, the students also met with a guest lecturer from abroad, Rogier ten Kate, MBA, Professor at Durham College, Oshawa, Canada, who introduced them to the concepts of market transformation and motivated them to take up sustainable development projects, while he will also join them for project presentations.
About the visiting lecturer: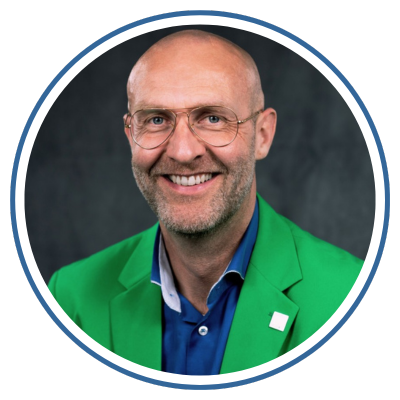 Rogier is originally from the Netherlands and is currently living and working in Canada. He is a dynamic people and organisational development coach. With more than 20 years of work experience, he has held various international marketing, sales and business development roles. He currently works as a Professor at Durham College in the School of Business; he is also the director of WIAL Canada.
He is an enthusiastic and active trainer and workshop coach. He is familiar with the action learning methodology, which perfectly fits in with his current organisational and human development work. His workshops enable people and organisations to become more creative and innovative. They also support and initiate active problem-solving.
He completed his BA in International Marketing at Northwood University in Texas and his MBA in International Business Management at Bradford University in the UK.
Some statements from the students:
"This visiting lecturer is unique – interesting and witty, and one of the few who explain the topic of sustainable development without embellishment, but rather in a very realistic way. I especially like the fact that the whole lecture is conducted without reading and in a relaxed and conversational spirit and in an exchange of opinions and thoughts with the students. Excellent! One can only wish for more guests like him."
"The lecturer shared 90 motivating, inspiring, valuable minutes with us, explaining the fundamental concepts of sustainability that we will apply in our 4-week team assignment on Sustainable Development. What particularly impressed me was that all the participants were very relaxed, curious, commenting, asking questions, turning on the cameras and, on their own initiative, the microphones – not just the chat."
---
DOBA Business School cooperates with international partner business schools, develops internationalisation, and provides students with an experience of intercultural cooperation.